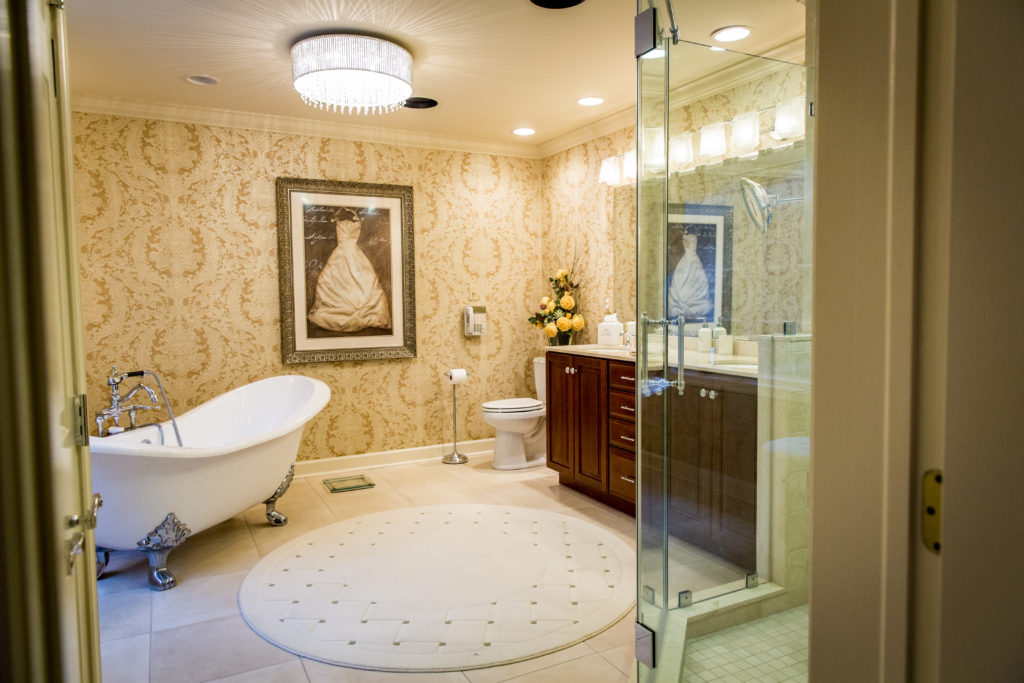 Carole Lee Interiors was recently featured in the September issue of 'Chester County Life Magazine' talking about today's' trends in bathroom design. Today's bathrooms are simply not like bathrooms of the past. Homeowners want to transcend the typical. "We tend to seek a happy getaway that invites us to enjoy hours of relaxation," points out Carole Lee.
Bathtubs and showers have reversed roles. Tubs are smaller, showers, sometimes room size. Today's tubs are made for mini retreats and tend to be freestanding in the room. "Light a few candles, pour in bubbles, open a good book, and luxuriate," Carole Lee suggests. "A bathroom haven isn't limited to women. Men enjoy a calming soak as they watch a golf tournament or pro game, which is why we are incorporating TVs into many designs."
Vacation environments continue in modern showers. More like spas, these spaces are highlighted with body sprays, rain shower heads, and hand showers. "A recent project," notes Carole Lee, "integrated a large ceiling-mounted shower-head with another hung on the wall. We also install ample shelving, and corner seats."
Environmentally conscious toilets that feature flush technology made to minimize spreading germs, as well as buttons to dictate flush rate and reduce water usage are made in sleek designs that work well in small or large spaces and can be hidden in a recess.
At Carole Lee Interiors they offer many design concepts to work within a smaller budget. " People should work around an investment they can comfortably spend. To economize they can apply paint in the bath instead of wallpaper. Window treatments make a whole new statement. Rather than purchasing a sink or tub, consider replacing fixtures. Tubs, in fact, can be refinished to look showroom splendid. Tile, as well, is paintable if it's still in good condition. Add artwork, silk flowers, and attractive accessories. It's amazing how fresh and striking the room becomes. We derive just as much satisfaction – sometimes more – from small-budget projects," states the designer.
The complete story, 'The Allure of The Bath' can be seen in the September/October issue of Chester County Life Magazine. And, if you are looking for a bathroom refresh, call Carole Lee Interiors today to set up an appointment.