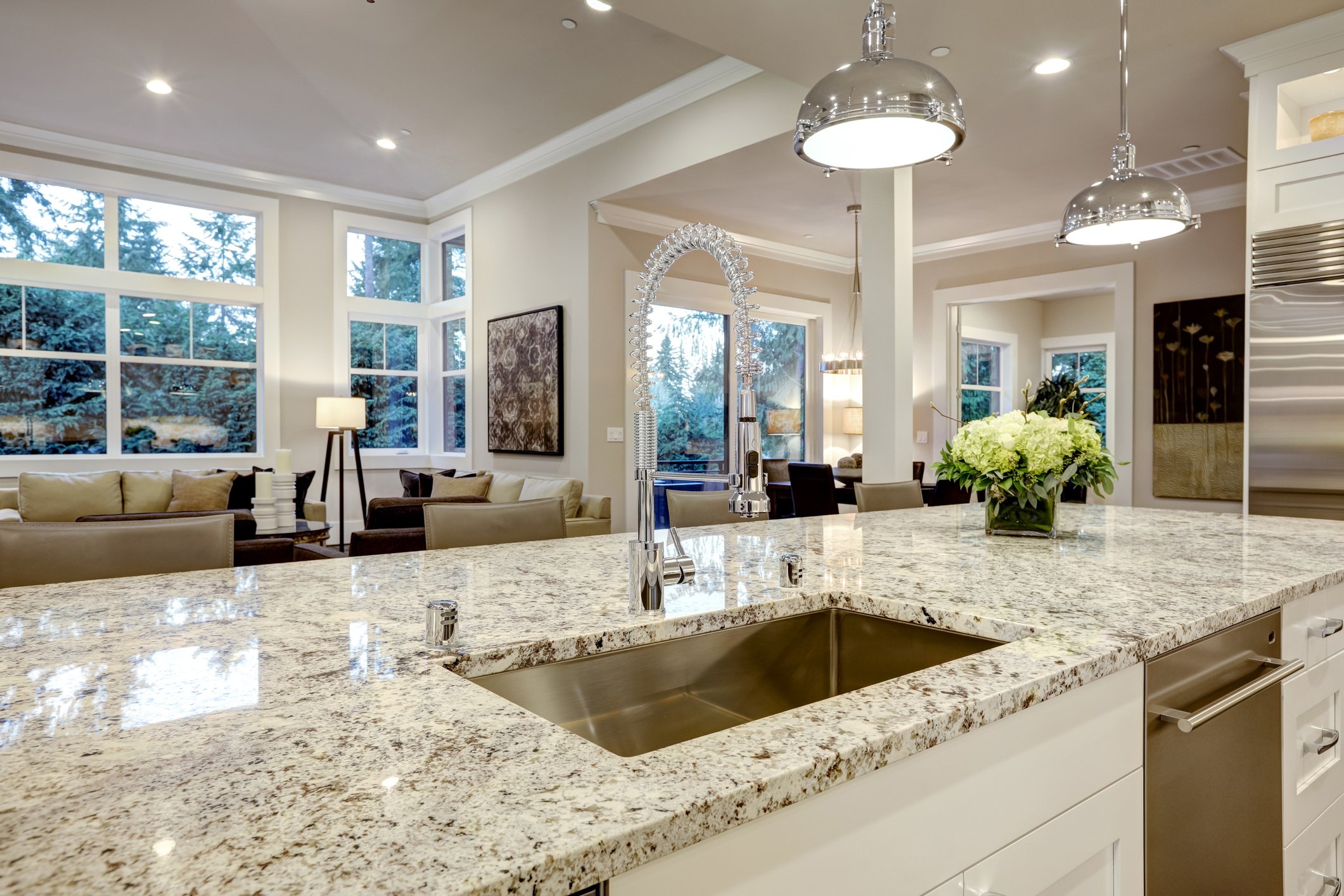 The kitchen is the heart of your home; where meals are enjoyed, school bags get tossed, good and bad news is shared, and the place where guests tend to congregate when you entertain, despite having the dining room table set. The workhorse of every kitchen are its countertops.  Countertops must be both functional and durable, while completing the design and style of the kitchen.
If you are ready for an update or a complete remodel, here are five popular countertops you should consider based on durability, function, and style. Prices will vary based on availability and fabrication.
Quartz
Currently a very popular choice in kitchen countertops. Homeowners tend to choose quartz surfacing because of its many advantages. Quartz doesn't need to be sealed, and its seams blend very well. It is easy to clean and is heat, scratch, and stain resistant.  Because of its manufacturing process, quartz is durable and has a seemingly endless choice of colors and patterns.
Granite
Granite surfaces are slabs of stone cut from the earth, making each piece unique. It is more porous than quartz and does require a bit more maintenance. You can order granite countertops with a polished, shiny finish; a honed, matte finish; or a specialty finish such as flamed or leather. Because of the many choices in colors and finishes, design flexibility is a significant advantage in choosing granite.
Marble
As a counter surface, marble offers a beautiful, timeless look. It has been a preferred stone in architecture throughout the ages. However, as a fair warning, marble is softer and more porous than granite. It is susceptible to stains and scratches so upkeep can be challenging, depending on your lifestyle.  Even so, some of the most beautiful countertop installations are in marble.
Quartzite
If you love marble but don't want the upkeep, you should also consider quartzite because it is a natural stone with similar beauty. Quartzite is a solid, crystalline mass of mineral stone cut from the earth in slabs.  It's harder than most knife blades and is more resistant to etching than marble. The generally lighter, more subtle tones of quartzite give it design versatility.
Wood
A durable surface for hard-working kitchens, wood countertops are more sanitary than you may think. Wood offers warmth both visually and tangibly, in contrast to cold stone surfaces.  Today it's possible to design kitchen countertops to be a wood species such as cherry, maple, hickory, walnut, teak, sapele or mahogany. If you use a wood countertop as a cutting or chopping surface, be willing to accept cuts and scratches in the surface and simply apply a food- safe oil to the wood.
A kitchen update or remodel may seem overwhelming.  However, working with the right design and build firm can eliminate the stress of a kitchen project. At Carole Lee Interiors we guide you with advice on budgeting and time management during each step to keep your project on track.  We combine extensive interior design knowledge with a team of expert craftsmen to ensure your project is executed without sacrificing form or function.
Give us a call today.