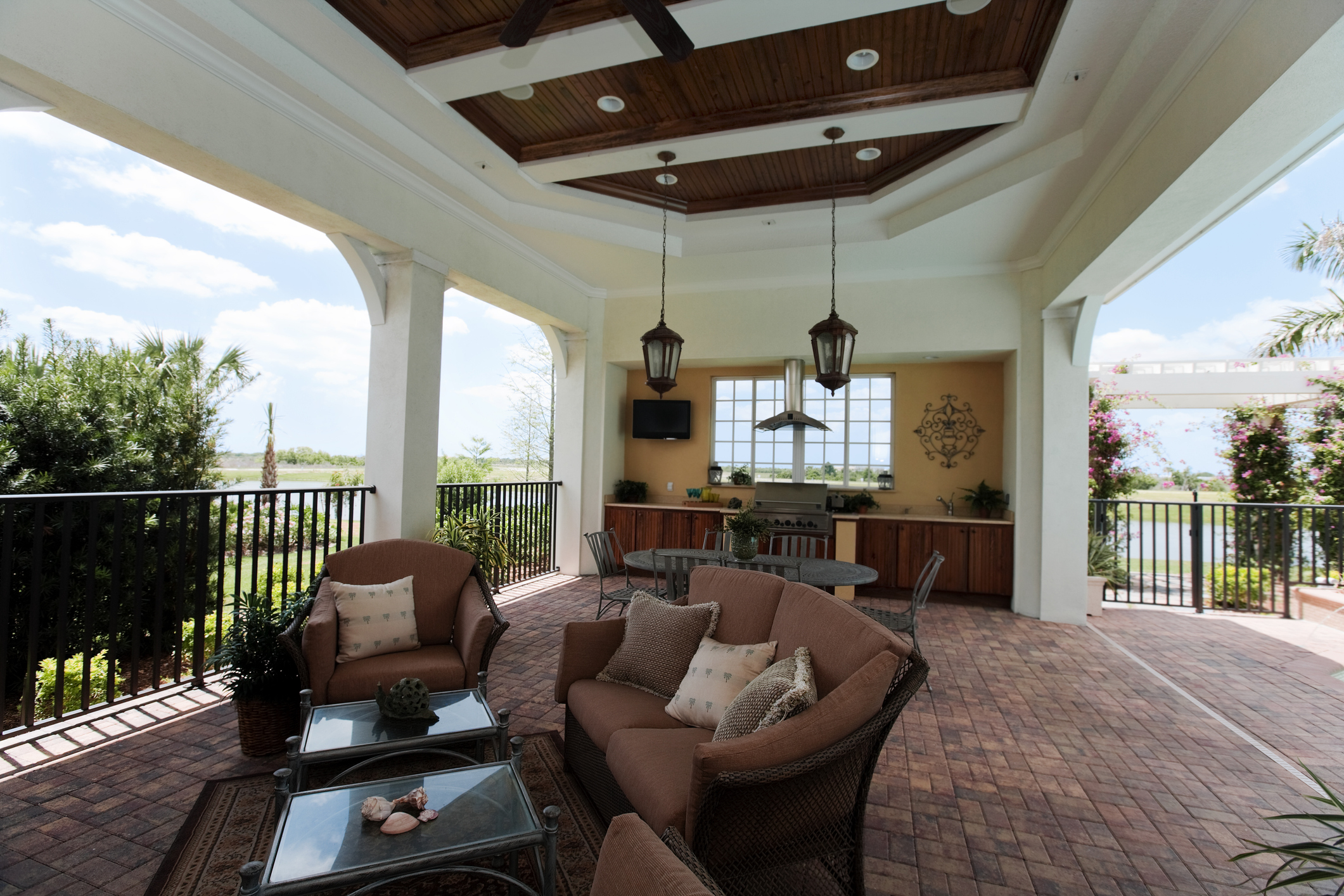 Whether you're cooking, exercising, or just hanging out, plan to spend more time outside this year as backyards, decks, and patios evolve into comfortable, well-equipped extensions of the home.   This year's outdoor living trends are all about making your backyard, porch, or even balcony a regular part of everyday life. Homeowners can expect to bring indoor conveniences outdoors with smart technology, multipurpose add-ons, and structures that allow us to be outside longer and more often throughout the year. Whether it's a spot a private patio with plenty of shade, or a place to do the cooking, outdoor living in 2021 is synonymous with time spent at home.  Here are a few ideas we like that will enhance your outdoor living experience.
Outdoor Kitchens
Cooking at home outdoors has become increasingly popular.    And we don't just mean your standard barbeque grill, but instead entire outdoor kitchens.  There are many additional cooking elements like pizza ovens and grills to supplement the main interior kitchen.  Other options can include prep space, storage, sinks and refrigeration.  Space and your renovation budget will determine what type of kitchen we can build and install.  And we always recommend additional seating to complete alfresco meals.
Multipurpose Furniture
In 2020 entertaining was less of a focus, which prompted furniture designers to build multi-functional pieces meant to work in outdoor spaces that accommodate both everyday living and social distancing.  Expect newer designed outdoor furnishings to be versatile enough to use in nearly any space you choose. Hidden features and items that are convertible, like modular tables that can be pulled apart with hidden beverage compartments are things to look for.
Products That Extend the Outdoor Living Season
Furniture, accessories, and add-ons that help you stay outside longer are an especially popular upgrade.   We like to help our clients extend the days and hours they can enjoy being outside.  Amenities like fire pits, heat lamps, misting systems and fans help extend the outdoor living season.   To tie it all together we add outdoor rugs, throw blankets, pillows, and lighting, which supply cozy ambience.
Why Carole Lee?
 At Carole Lee Interiors, we offer clients a complete approach to satisfy all your outdoor living needs. We provide outdoor kitchen installation, custom firepit installation, outdoor lighting and full-service design and decoration for all furnishings, including selection and purchasing.  Give us a call today!