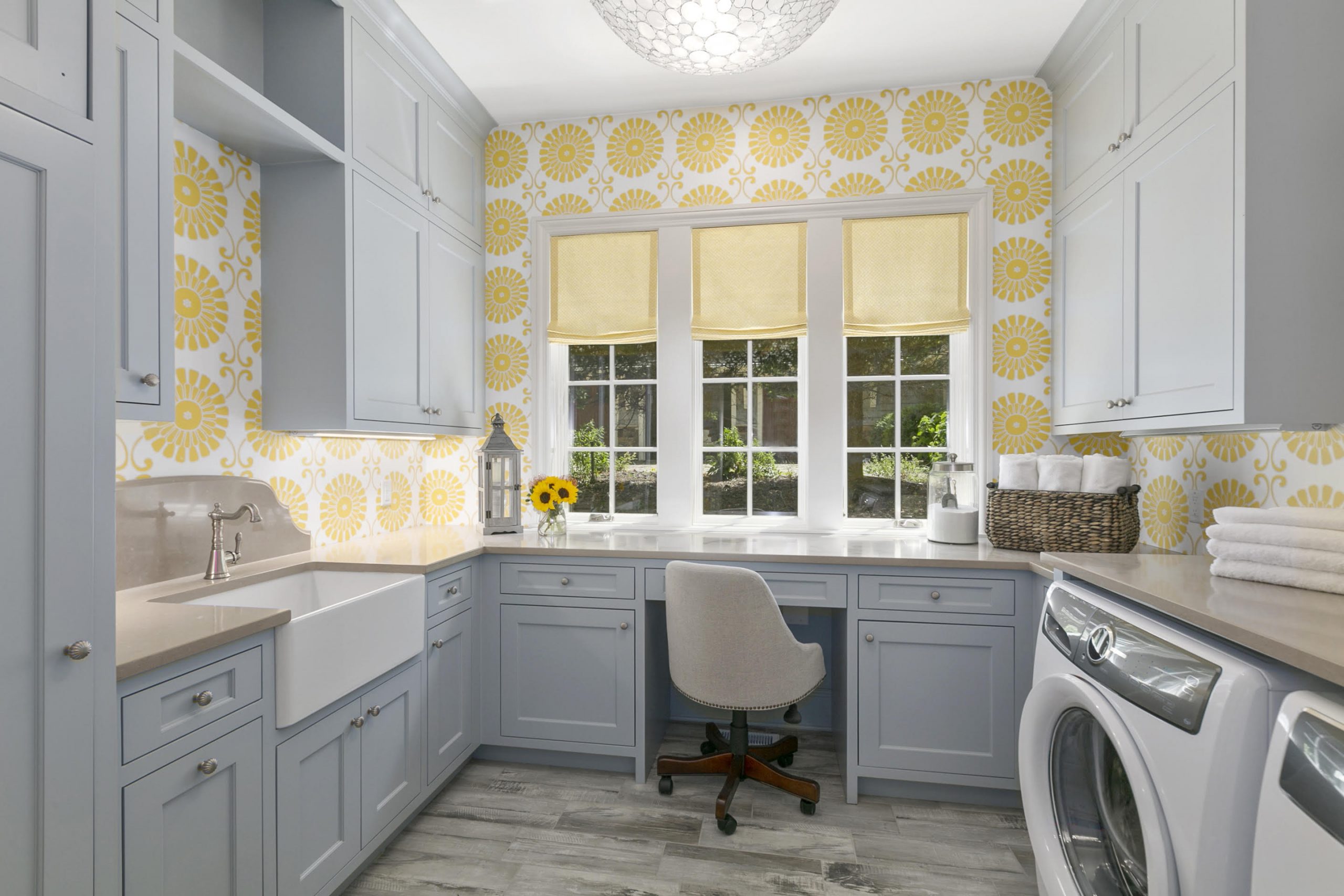 Remodeling any room in the house can be a complex process, even functional rooms like laundry rooms take a lot of thought and planning to get from inspiration to result. Here are some specific considerations for laundry rooms. Working with an interior designer who also provides complete general contracting services may be the best way to manage your project.
Know Why You're Remodeling
When first setting out to renovate your laundry room, it is important to understand the driving motivation behind the project. Is the renovation happening to update the look, or to accommodate a functional aspect of this frequent use room? Keeping this core impetus to renovate in mind leads to a project that suits your wants and needs.
Make Sure the Room Fits Your Life
Whatever the reason for the redesign, the workflow for a functional room like the laundry room is a design element not to be missed. Consider if the room big enough and located in a part of the house that makes sense for your living needs. Renovating the laundry room might include bumping out a wall or moving it to somewhere easier to access.
There are a few considerations unique to how a laundry room fits into varied lifestyles. The physical space of any appliances, as well as sinks, folding boards, and cabinets represent the fixed elements for spacing. Laundry basket space, drying racks, clothes lines or poles, ironing or steaming equipment, and maintaining chemical safety vary more household to household.
Make Sure the Room Fits Your Look
The laundry room may not be the most or least glamorous room in the house, but it is a room that sees frequent use. As with any remodeling job, the end result should be something you're happy to look at on a regular basis. From lighting options to color profile, there are many ways to make a laundry room uniquely yours.
Though a functional room, the laundry room will still be visited daily by many. Making any regularly used spaces comfortable is an important part of any redesign project. Matching walls, cabinets, and even appliances can be a daunting task well worth the time. Flooring options and potential noise reduction features also increase the quality of use of a laundry room.
Lighting
Often an interior or basement room, frequently without any natural lighting of any sort, laundry rooms benefit greatly from a well thought out lighting plan. The classic dangling bare bulb fits the functional requirement, while integrated strip lights and time-out options make a visit to the laundry room more comfortable and aesthetically pleasing.
As a functional space, choosing the right bulb is an important step. Full spectrum white light from LEDs or daylight bulbs help identify stains and reveal the true color of cloth, while softer yellow lights might reveal what something will look like inside.
Cabinets
Choosing the right cabinets for a laundry room is a matter of both form and function. Choosing to have doors on any given cabinet changes both the look and ease of access. Waist-high cabinets can be used as a folding table and staging area, while floor to ceiling cabinets offer more storage without the folding table.
Flooring
Choosing the right flooring for a space can be a daunting task and choosing the right flooring in a room with as specific a purpose as the laundry room is no exception. Some flooring is great for cleaning up lint but does not stand up to the weight of some appliances, other flooring is comfortable and cozy, but a pain to clean. Add in the complexity of coordinating the flooring with the aesthetic theme of the room, and the value of an expert becomes apparent.
Call or email Carole Lee today to schedule a consultation for all of your interior design, general contracting, and project management needs!